So with the help from some friends at the luxurious and magical Crown Towers in Melbourne, we created a beautiful, 'memory maker' for my Fairy, her junior Besty Troop and my Besty Troop. 'The ultimate sleep over', at the Crown Towers in the city.
We dressed up to feel the part. I spent a little more time drawing on my eyebrows so they didn't resemble the Nike tick, wore a pair of wedges rather than my bed socks and twirled and tied my scarf so I looked more like a françaises fashionista, rather than the usual, pirate cross between a fortune teller look.
We were greeted at the entrance by a doorman, who chivalrously assisted the girls out of the car treating them like beautiful princesses. Of course, they loved every bit of it, and played the princess part perfectly.
Both girls had their cameras and by the time they had made it out of the car, across the plush welcome carpet and into the foyer they had nearly drained their batteries.  From the 'Push Here' sign on the revolving door button, to a group of 'Chinese tourists standing looking up at the ceiling'. They had all photo opportunities covered.
We were ushered to the 'Crystal Club' like VIP's where we were directed to check in. The girls were mesmerised by the surrounds, a huge Crystal chandelier hung in the centre of the foyer, like a gigantic shiny earing.
And just as the doors were opened to welcome us into this world of poshness, my 'deadly wedge' gave way and I fell to the ground, probably the large thud triggering a Tsunami in some poor little unsuspecting village in Thailand.  Fortunately I didn't fall on my Besty Troop and crush her to death, as she tried with all heart to save me but it was useless. I was like Moto Moto, (Hippo from Madagascar) stuck like a wet mattress on the floor, with not enough strength to get myself up. Laughing seemed the only thing to do.!!
Finally, after that was all dealt with and we'd checked in, it was off to our room. Well the girls ran to their room, they were excited to be on the 27th floor. And once they got in, there were……….
"I bags this bed", "wow look at the bathroom, there's a TV over the bath.
"And look Billi, there's a telephone in the toilet."
"Oh mum can we please order house service?"
"Don't you mean Room Service?" ……
"Yes, yes, can we please order Room Service?"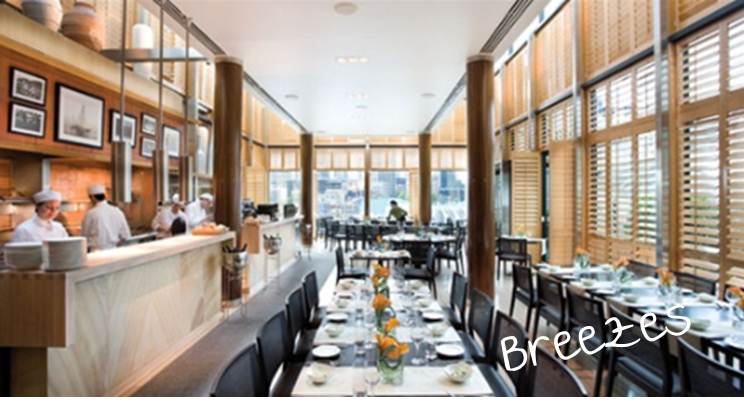 But no time for Room Service. Our first stop was at Breezes, a gorgeous restaurant that looked over Melbourne, where we had a delicious lunch. I wasn't quite used to all the walking, my head thought it could do everything, but my legs had a different idea. I felt like I had just spent three years riding a donkey across the Himalayas then all of a sudden we were off again.
We made our way to the gigantic swimming pool, the girls skipped ahead with excitement. My Besty Troop carried about 6 bags always checking on the girls ahead and on me behind. I did notice that since lunch, I struggled with my walking a bit more. I looked down and called Narelle to have a look…………….
Yep, the old 'slip the shoes off under the restaurant table' and blindly put them back on the wrong way, just like a 2 year old would.
Seriously, how can you cry about this…..when it's a laugh a minute??
It was so good to hear the girls laughing, and watch them squeal with delight about this magical place. Glitz and glamour, buttons to push, doors opening for them, being posh for the day. I just loved being with my girl and felt like I was part of making her happy.
And in between the girls giggling and going off on their own, Narelle and I even had a little bit of time together, every moment is precious and we just talk.
So with the promise of a big bubble bath and some television, we were back in our room before we knew it. Whilst they fluffed and frothed amongst all the bubbles, they were out again discovering the telephone in the toilet which was unbelievable to their eyes. I must admit, I couldn't think of anything worse than receiving a call from someone sitting on the toilet half way through their 'occupation', if you know what I mean. Why??
And just as they were about to dial room service from the 'telephone toilet', we announced it was off to Gold Class, for the movies. They were excited but I was still feeling the effects of riding a donkey for three years. Although it was beginning to feel more like a pigmy Shetland pony, and my little wobbly legs were just about on their last trot.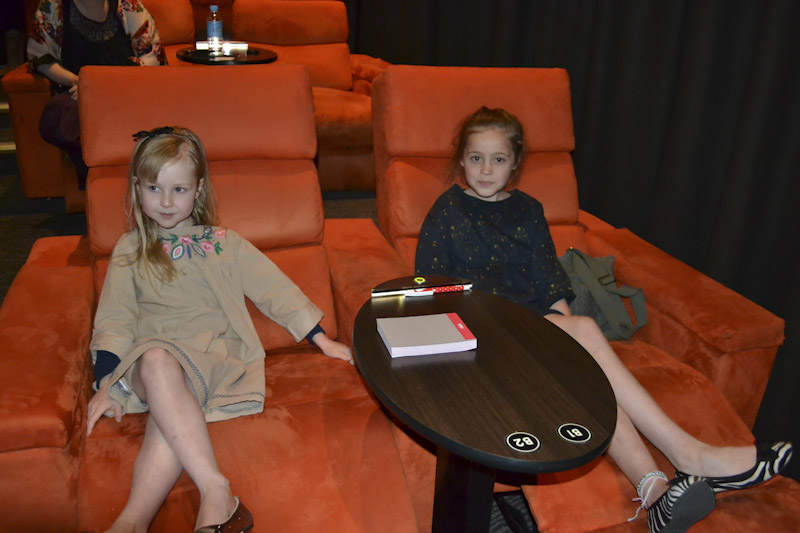 After the movie, we made our way for Sashimi and Sushi at  Koko for dinner. A restaurant with a Japanese pool and stone steps across it. My Fairy just wanted so badly to walk across, like the waitress's.  But after we watched the strange man wringing his socks out because he'd just fallen in, she promptly changed her mind.
Had a lovely Japanese dinner with 'my girl', and it definately made our night when we saw the man wringing his socks out in the meditation pool after falling in.
After a big day of 'memory making', they were tired and their little eyes were looking a little 'racoonish.' The only thing getting them through dinner was the thought of room service.
I think ordering room service was their favourite thing about this whole magical night. Seems ironic, given this is exactly what happens at home when they want something, but they just call out instead of using a phone.
There was lots of conversation on the phone about, flavours, sizes, can you say that again, and "can I talk to your mummy." But it all worked out in the end and two little buckets of ice-cream were safely and promptly delivered to our room, having two bites taken out, the girls seemed to be satisfied.
Well, that was until they found the broken plug in the bath that they insisted could be fixed by, "Room Service."     
That night we cuddled with our girls in our King Size Beds, and gently drifted off to sleep with sweet memories of our day. I loved feeling Sienna's toes with mine, making sure she wasn't too far away. We held hands until we snuggled into our soft pillows and got into our favourite sleeping positions. There's nothing like the warm feeling of falling asleep, listening to the hushed little breaths going in and out. 
The next day was the much anticipated buffet breakfast and then a morning walk.
MEMORY MAKING WITH THE BIG GIRLS
The day before results, I had 'surprisingly and efficiently', organised a thank you day for my beautiful troops who have been around me, protecting me, comforting me and looking after our precious little family for all this time.
I asked the troops to meet me at my house by, 10:45am, and although there was no hesitation to come, none of them knew what was in store. And I think they were a little nervous, especially when I playfully mentioned the "guru" and the "incense and bells" that had to be hung from their ears.
At 11:00am, the doorbell rang on queue, and one of the troops answered it, the courier asked for Rachel West as there was a rather large 'on-line' shopping delivery.
All the troops went to have a look and were relieved to not be greeted by a Guru and his brief case of coffee enemas. But a rather large, black stretch limousine, waiting to take us all on a 'Memory Maker'.
My Dad was there to capture the moment on film, he's so kind.
With the help from the beautiful lady, Margaret Ritter, who I met on the phone only back in 2009, when she donated to the Make Breast Cancer History Gala Evening. I had waited for so long to meet her, 'face-to-face', she kindly and generously offered to drive us to the winery, Domain Chandon in her amazing black and shiny stretch limousine. We talked and laughed and even had a little go on the karaoke.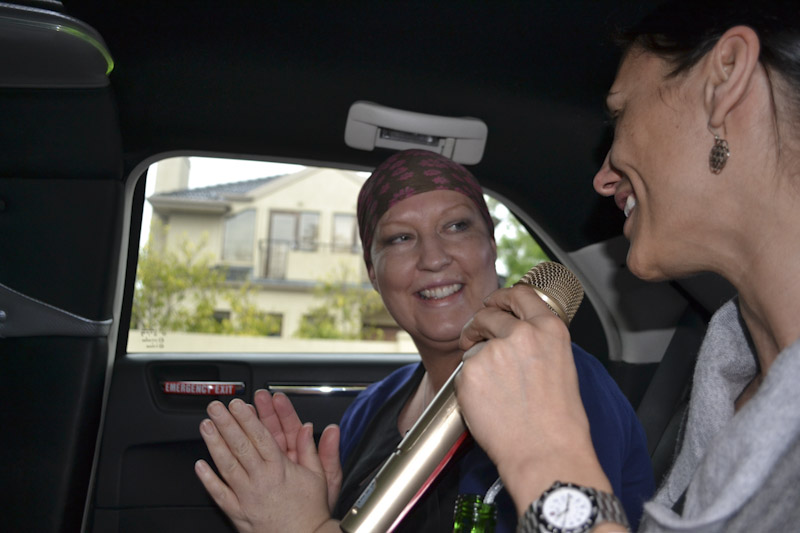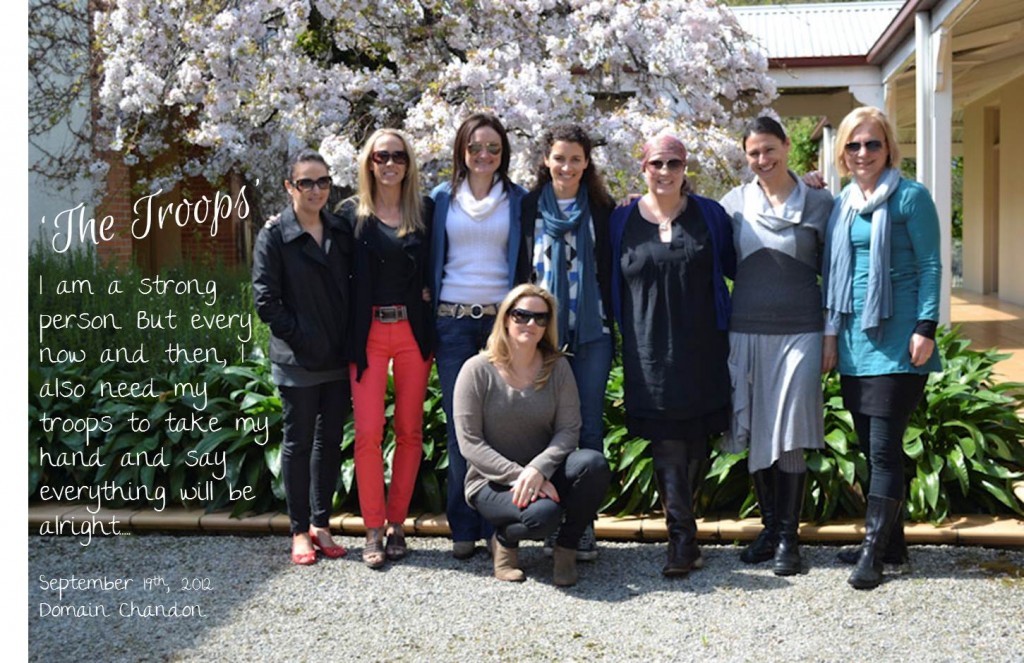 Arriving at Domain Chandon  immediately became a wonderland of beauty, the grounds were so picturesque. We all enjoyed a beautiful lunch and looked out amongst the exquisite vineyard, we could have been anywhere in the world.
But we were together, seven troops and me. Who I love so much and feel incredibly lucky to be loved and cared for by such wonderful women. Sometimes, words just don't come out the way you want them to, and just being together can say so much more.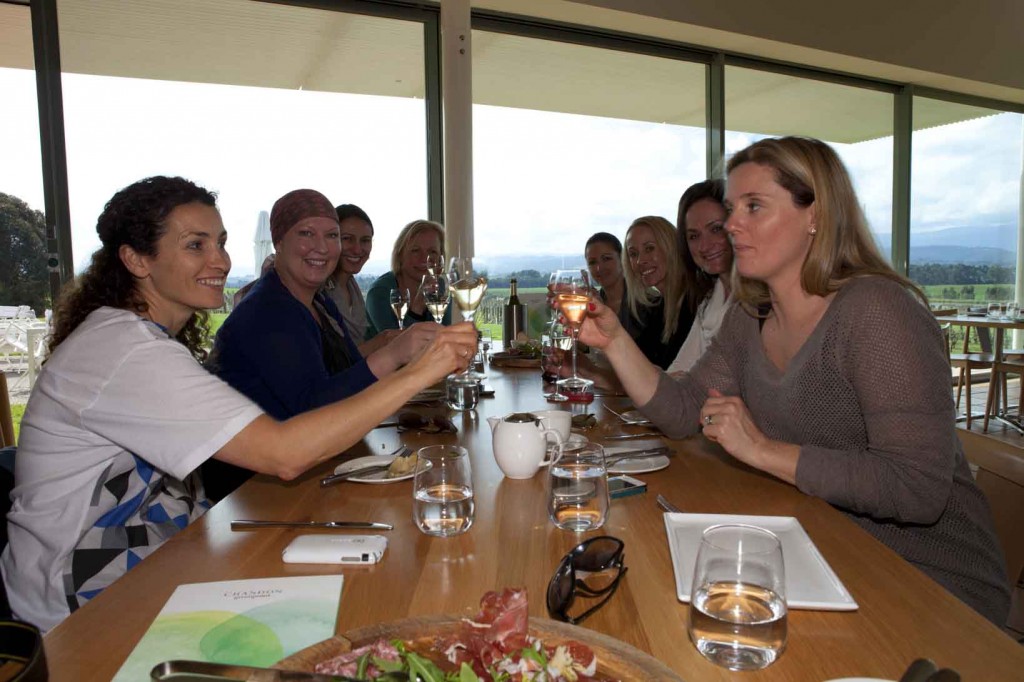 What a wonderful day, and the feeling of being amongst such love is nothing you could ever imagine.

RESULTS – Progress Report
I had to think for a bit about what results I was getting that morning.  There was no major anxiety or anticipation before waiting to see my Health Stylist on results day, as we have come to get used to these appointments …. You hear the results… you talk about what it means….then you move on to the next step.
It was not a lot different that day either, although the results weren't mind blowing.  The great changes that seemed to be happening in the Liver weren't progressing as well and the "Japanese Golden Juice", seemed to be slowing down. Not for a minute did I feel like giving up, I just thought… "Let's crank it up!!"
We sat there and my Health Stylist looked at me with a very serious expression and said, "You have to start farting!" My mind was in a total swirl with what he just said. I have been told many things, and promised to do whatever it takes, but, "start farting?" It was more a matter of having the ability to stop!
But as I was still processing his comment in my mushy brain, I could hear other words such as, "getting strength back, exercising, start walking more, start fighting."
Relieved to get that conversation cleared up, I went through my latest list of side effects, new and continuing.  I do find it difficult to say I feel unwell and mostly say I'm good when I feel like my head is about to blow off.
Numb fingers and Hands

Stiff neck and back

My wobbly and tired legs, that at times can't hold me up.

Some strange headaches now and again that were waking me up in the night.

Feeling nausea and a little disorientated more than usual.
My Health Stylist wrote me up for a brain scan and gave me a bonus week off chemo.
I gave my friend a hug and thanked him as usual. Always quietly thanking him on that last squeeze of my hug, for continuing to try and save me.
FIGHTING WITH A LITTLE HELP FROM MY FRIENDS
So off I  went up to the end of the street corner and back, down the local pier in St Kilda, all with a little help from my friends.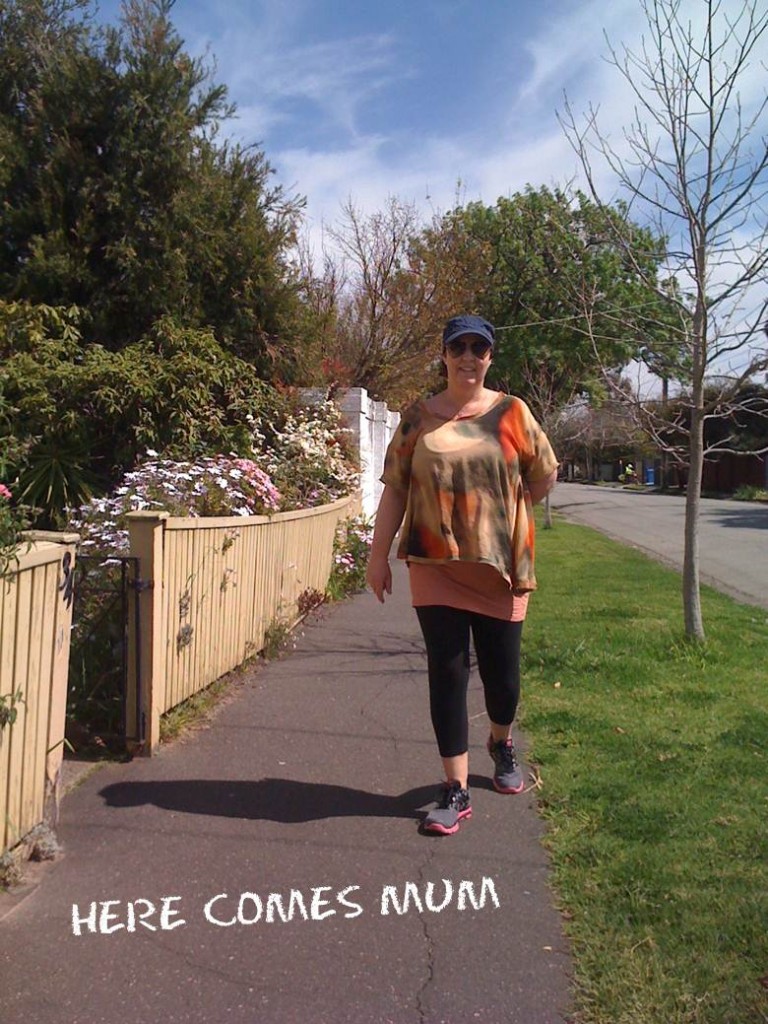 LOTS HAPPENING BEFORE START OF SCHOOL HOLIDAYS
So the last week before school holidays, and there were a few things going on, of course I would do anything not to miss anyone of them and tried my best to be there for my girl.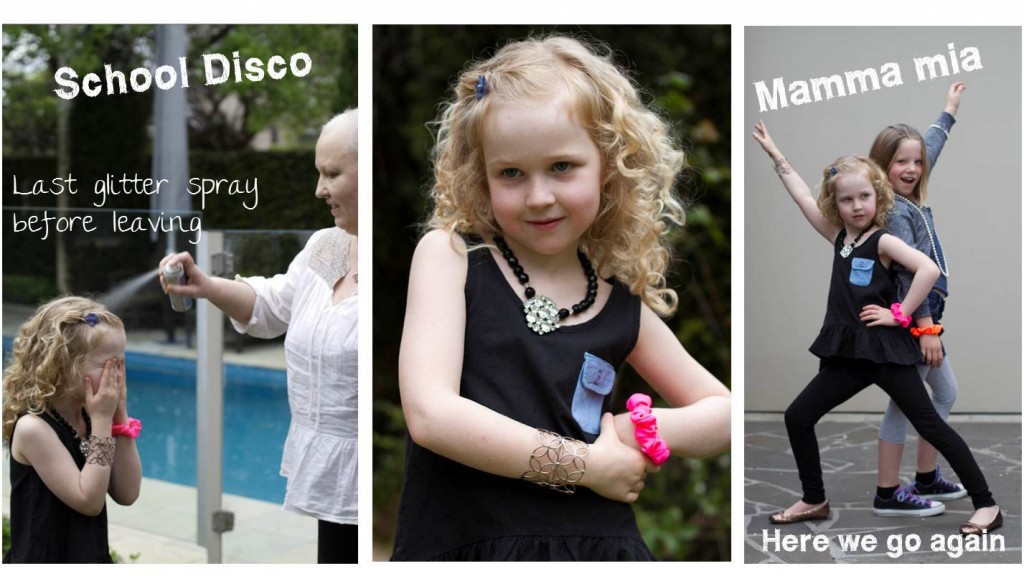 A brain scan was booked in for a few days after chemo. Because it was school holidays, Sienna came too. The three of us together going for a scan to see if mummy has brain cancer, what an outing. Is it right or wrong to bring your 7 year old to watch. She loved it, so interested in the buttons and the screens and all the computers. And seeing mummy's brain, wow what other 7 year old gets to see that kind of stuff?
MEMORY MAKING WITH OUR LITTLE FAMILY
A few days later, it was an exciting evening, September 27th!
We were taking Sienna to see Swan Lake the ballet at the Arts Centre. We dressed up in our fineries put a bit of lippy on (the girls only) and off we went to a night of Odette the princess, who was turned into a swan by an evil sorcerer's curse.
I was still so wobbly on my feet, and felt quite nervous about walking around in crowds of people and up and down stairs. All I could focus on of was getting to our seats without me toppling over and potentially crushing someone. Or even worse, tripping over into some old Patron's lap and being wedged in his lap, potentially dying of suffocation amongst his nether regions.
We finally made it to our seats which were great. Act I opened and our Fairy sat there with eyes as wide as saucers, the beautiful and mesmerising dancing and the spectacle of the costumes, captivated her every blink and breath.
I loved being there, I loved watching her loving being there. I loved listening to the music that my Mum and Dad would play and I would dance to.  My Dad would lift me into the air, as I would point my toes and reach for the stars. As my eyes misted up with happy memories, I realised I would have been the luckiest 18 year old around.
That night we slept with Swans in our dreams. Maybe not my Brave Man, I think he was happy to be 'done and dusted' with his ballet experience.
Day's after we didn't hear from my Health Stylist, he was to ring if there was anything wrong with my results. With no phone call we were happy that everything was ok and we carried on.
I loved our couple of weeks of 'memory making', it was lots of fun, a little tiring but worth every bit of it.
Arriving at our Johanna Haven………Being greeted by the prettiest rainbow

The last week of school holidays, we spent in our Johanna haven. Our poor Fairy developed a virus and was so sick all week. She cuddled up to me like a little Koala, and every night the Brave Man slept in her room to give her medication for her temperature when she would wake at 2am.
Even though she was so miserable and her temperature stayed on 39-40C degrees all week, I quietly loved being a proper mum to her. Cuddle when she needed one, ice-pole when she couldn't have anything else, cold face washers to cool down her hot little face. And stroking her face when she couldn't get to sleep, telling her, "Mummy's here, I'll make you better."
Meanwhile I was getting more unsteady on my feet and feeling so progressively unwell and emotional. I just knew these feelings were  new and not normal. I decided not to say I was fine, and ring my Health Stylist first thing Monday morning to leave an urgent message.
That morning Sienna got ready for her first day back for the last term of school, and I sent my Health Stylist a message as soon as my Brave Man took her out the door to go to school.
We were getting the feeling that it was going to be another challenging week.